PRXB RV Upgrades
WANT 50% MORE BRAKE POWER??
It's time to take braking to a whole new level… with Pacbrake's PRXB exhaust brake!
It is a simple, no hassle upgrade resulting in a dramatic boost in performance over the existing fixed orifice brake. The PRXB will outperform any exhaust brake on the market in the low to mid RPM range, where most typically drive.
Considering swapping any fixed orifice exhaust brake out for a PRXB and you'll be putting a better built, longer lasting brake on your vehicle with much better performance; you'll notice the difference immediately.

WHY UPGRADE TO PRXB?
An exhaust brake relies on exhaust backpressure to create braking horsepower. The problem in the past has been that as a motorhome slows down, the RPMs also come down and you lose backpressure, resulting in a loss of braking power. The PRXB addresses this very issue with the patented air valve (waste-gate) that is designed to close as the engine's RPMs begin to drop. The closing of this valve creates higher backpressure and therefore higher braking horsepower.
At 1200 RPM the PRXB will create the same braking power as a traditional exhaust brake does at 2200 RPM. The net result is that the PRXB provides much better braking over a much wider RPM range.
PACBRAKE'S PRXB RV UPGRADE VS FIXED ORIFICE BRAKE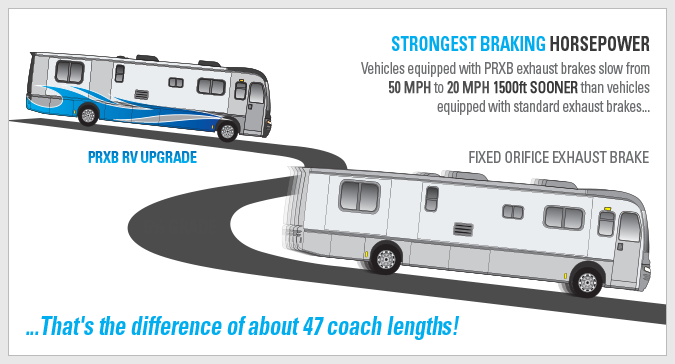 Find a dealer in your area, or call us at 800.663.0096
FIND A DEALER