PH2 PowerHalt
Pacbrake's PH2 PowerHalt air intake emergency shut-off valves provide a reliable and safe method of shutting down the engine. This particular model utilizes a butterfly valve design and a manual latching system with a spring loaded valve plate in the normally open (engine run) position. The PH2 shut off valve ranges from basic manual pull cable to electric or pneumatic, fully automatic systems with manual reset.
This particular model is best suited for non fail-safe applications, and covers a broad range of industry applications/requirements. Custom kits are available for most pick-up truck applications.
PH2 KEY BENEFITS :
► Designed for extreme environments
► Rigorously tested
► Zero leakage
Read more about understanding the risks of working around combustible vapors, and being aware of the solutions available to protect your crew and equipment in our DIESEL ENGINE SAFETY & SOLUTION GUIDE.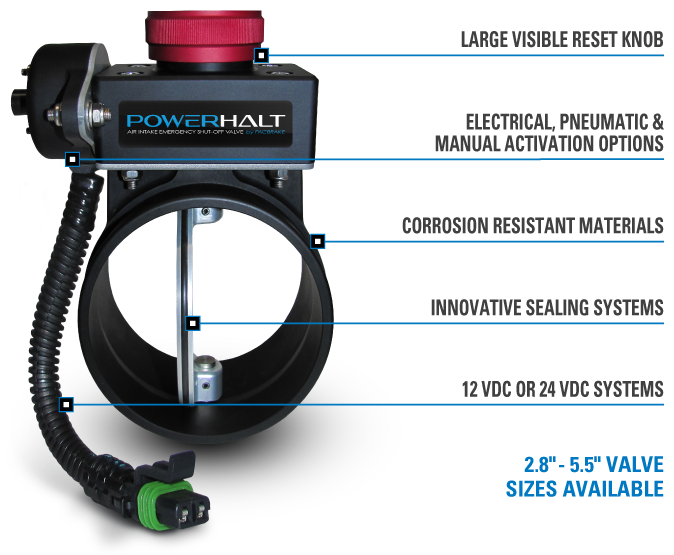 PowerHalt Catalogue
A complete product listing for all our PowerHalt Shut-Off Valve offerings

PowerHalt Catalogue

View
Product & Safety Overview
Application Guides
System Selection Guide
How To Order
Specification & Data Selection
Components
& More
PowerHalt Operator's Guides
Helping you achieve optimum results with your PowerHalt Shut-Off Valve

PH2 PowerHalt Operator's Guide

View PH2
Operate
Test
Maintain
Troubleshoot