Williston Basin Petroleum Conference – May 24th to 26th
As an approved military and OEM supplier for the past 40 years, Pacbrake has supplied well over 2 million butterfly valves for a broad range of applications. Pacbrake brings this experience to it's Powerhalt line of Air Intake Emergency Shut-off Valves; also known as Positive Air Shut-off Valves.
PowerHalt Shut-off Valves provide a complete system shutdown to prevent catastrophic damage to equipment and personnel during a diesel engine runaway. These valves are offered in various sizes ranging from 1.75" – 5" with various control and actuation options. Designed and tested to the highest industry standard, PowerHalt valves come with an industry leading 2 year warranty*.
*Refer Warranty terms and conditions for more details.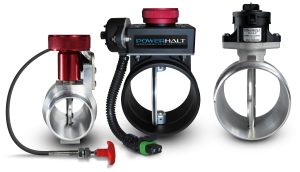 Pacbrake will be exhibiting at the Williston Basin Petroleum Conference from May 24 – 26th in Bismarck, North Dakota.  We invite you to join us in Booth 915 to talk to one of our sales representatives to know which PowerHalt valve best suits your application and needs.