Operation
With over a quarter of a million exhaust brakes manufactured and sold, Pacbrake has mastered quality product development. Being home to the only exhaust brake on the market with a true variable orifice, remarkable constant backpressure and strongest braking horsepower, Pacbrake has revolutionized modern day exhaust braking with its patented design of the PRXB.
WHAT'S SO SPECIAL ABOUT THE PRXB?
In order to have consistent and effective braking over the entire RPM range, it is important (and necessary) to maintain constant backpressure. To achieve this, Pacbrake's patented design has incorporated an additional waste gate on the butterfly valve to regulate the amount of exhaust flow that is being passed through. The flow is controlled by a spring-loaded arm, whose pressure rating and location are key factors in the functionality of the PRXB. Located outside of the housing and away from the heat, the spring is able to maintain its strength and durability for years of proper and precise braking performance.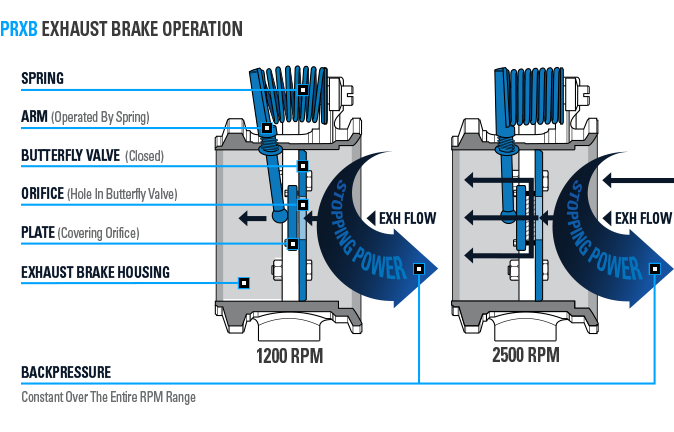 Backpressure is created by exhaust flow entering the housing, hitting the closed butterfly valve and being forced back out in the direction it came. It is maintained by the calibrated spring that is located on the outside of the exhaust brake housing. As the engine's RPM increase, the spring compresses and the arm moves away from the butterfly valve, releasing more exhaust flow through the orifice. As the RPMs decrease, the spring extends and the arm moves the plate, which covers the hole, and ultimately allows a smaller amount of exhaust flow past.
WITH THE PRXB, THERE IS LESS THAN A 10% CHANGE IN BACKPRESSURE OVER THE ENTIRE RPM RANGE